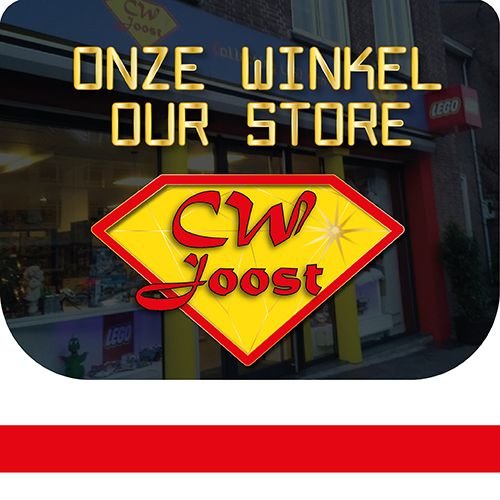 CWJoost LEGO® Store Waalre
          Cwjoost has opened its independent physical retail space since September 2018!
The retail space is located in Aalst-Waalre, municipality of Waalre in the Netherlands, only a few meters from ''City of Light'' Eindhoven.

The store is located on the main road from / to Eindhoven / Valkenswaard on the Eindhovenseweg and has an area of ​​more than 65 square meters.

With the opening of the independent store, the store in store in Eindhoven has been canceled. However, the service point in Best remains available to pick up your orders!

This retail space is also fully dedicated to the LEGO® brand, the LEGO® products and the fun with and around the brand!   
      Feel welcome to come by!

CWJoost 
Eindhovenseweg 61b
5582 HP in Waalre
Holland
CWJoost has taken its first step towards an actual store in Eindhoven since 2017.
The store is just like our webshop is, completely in the sign of LEGO.
After opening our webshop in the 2nd quarter of 2017, this was the next and logical step.
Where in the beginning we started cautiously with an offer of approx. 100/150 LEGO-sets,
we have grown and have now an assortment of over 300 different LEGO-sets.
In the course of 2018 we also expect to expand the space.
With this expansion, we intend to go to an offer of 500 different LEGO-BOC sets.
Outside the sets you will find in our shop a playing table with LEGO, where children can use their own creativity with LEGO.
In 2017 we had a "LEGO" TV, on which DVDs with LEGO films were played.
In 2018 it is the intention that it will come back again.

There are also several showcase models to admire from LEGO-sets.
Read more