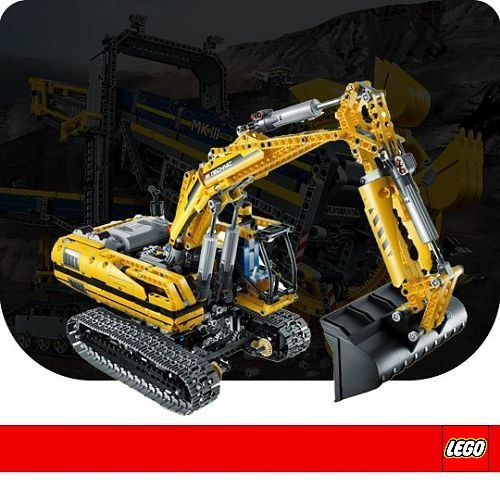 LEGO® Technic
LEGO® Technic:
more for the experienced and technical LEGO® builders
The LEGO® Technic sets offer a fun, innovative and more difficult building experience for children and adults.
From small vehicles to most exclusive and complex vehicles, but also trucks, modern models and technical replicas powered by LEGO Power Functions engines, it is all possible with LEGO® Technic!
With LEGO® Technic you can build advanced and realistic objects such as gear systems, piston engines, steering mechanisms and real-life cranes.
With these sets, fantasy is stimulated in a new way.
LEGO® Technic sets are equipped with authentic and realistic details and the 2-in-1 LEGO Technic sets can also be converted into an alternative model for even more playing and building experience!
LEGO® Technic:
full of techniques, cool constructions, shafts, gears and more ...
The sets from the LEGO® Technic category were introduced in 1977, but from 1984 this theme was actually called Technic.
The first pneumatic vehicles were also released in the same year.
These building and construction sets were developed for children from 6 years.
During these first years, the LEGO® Technic sets were mainly functional and, compared to other LEGO® sets, much less decorative.
The construction sets are all based on technology and mechanical parts are used to move the models, whether this is a working fork on a forklift truck or moving engine pistons, for example.
Almost all LEGO® Technic construction sets are provided with instructions containing an alternative or motorized model, nowadays also called A, and B, model, where the A model is the main model.
LEGO® Technic:
more than just technology ...
Technology is central to the sets from the LEGO® Technic theme.
Apart from the technical aspect, you see that today realism is increasingly central to the technical part. The sets are thus increasingly becoming a realistic scale model.
Where previously the technical aspect was central and the buildings were much "blocker", realism can now be seen in both technology and appearance.
This is mainly due to the more refined and wider range of types of parts, both in color and model, to also the technical programs with which the sets are developed.
In addition to this, larger and larger LEGO® Technic structures have also been added.
Whereas in the past the larger sets consisted of a few 100-th parts, today there are sets that consist of 1000-th parts (the largest sets are also called Flagships).

Some examples of Flagships today are;
LEGO® Technic Bucket Wheel Excavator set 42055 from 2016,
this consists of no less than 3929 parts
LEGO® Technic Bugatti Chiron set 42083 from 2018,
this consists of no less than 3599 parts.
Some examples of Flagships previously are;

LEGO® Technic Air Tech Claw Rig set 8868 from 1992,
this consists of 955 parts.
LEGO® Technic Car Chassis set 853 from 1977,
this consists of 602 parts.
The most important themes within LEGO® Technic were and still are the same.
And there are mainly sets around the themes;
construction vehicles such as forklifts and cranes
agricultural vehicles, such as tractors
transportation, such as trucks
cars, racing cars and boats
These day's the range is wider than before, in the early years there were still about 5 to 6 different sets per year, nowadays there are a few dozen that come out every year!
LEGO® Technic:
Fascinating, impressive and a pleasure for young and old!
Read more