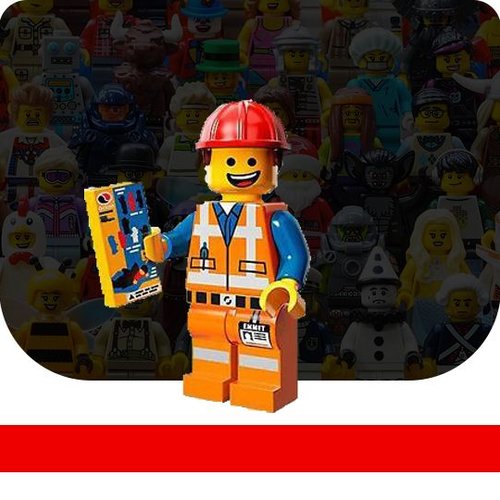 LEGO® Minfigures
LEGO® minifigures since 1974 a '' lively '' and solid understanding in the LEGO® world
LEGO® minifigures were introduced to the market for the first time in 1974.
Since then, the LEGO® minifigures have become indispensable, but also one of the most favorite parts within the LEGO® range.

The very first minifigure that was released is quite simple in the current terms.
This LEGO® minifigure was more like a '' statue '' (figurine).
had non-movable arms & legs and the face was evenly colored without print.

In the same year that the very first LEGO® minifigure came into existence, more human LEGO® minifigures came on the market.
These minifigures appeared in the LEGO® Family Sets.
The human minifigures had movable arms, a face with or without hair, a printed face and their body consisted of LEGO® blocks of 2x2x1.
From 1979, the LEGO® Group released the minifigures as we know them in today's base.
These minifigures have movable arms and legs and a smile.
Today there are 100-den different types of LEGO® minifigures.
These can be purchased separately, better known as Collectible Minifigures (collect minifigures) as well as in the construction boxes.
The LEGO® minifigures have been developed so far that there are minifigures with:
- short and '' normal '' legs, with and without print.
- faces with different types of printing, facial expressions, '' 3D '' as eg in LEGO® Friends-sets, tinted and also faces with a print on two sides.
- bodies with movable arms in a wide variety of colors and prints, where a part of the arms and body are different in color and / or print.
There are also 100 different accessories, attributes and weapons to make every LEGO® minifigure even more distinctive.
LEGO® minifigures are a pleasure to watch, play with and gather !!!
Read more