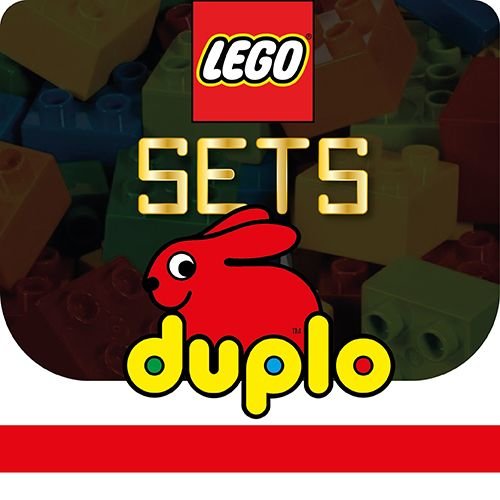 LEGO® Duplo®
LEGO® Duplo® is the category for your child from 1.5 years!
Duplo® is fun and educational and brings a smile to your child's face.
Discover all sets here in a clear and fun way!
LEGO® DUPLO®
for the very young, from 1.5 years!
DUPLO® the LEGO® for the very young from the age of 1.5.
The name DUPLO® translated from Latin means twice, this is exactly what Duplo is, twice as long, wide and high compared to the LEGO® block.
Due to the size of the DUPLO® blocks, they cannot be swallowed, but can be combined with LEGO® blocks when building.
The shape and size made DUPLO® extremely suitable for safe play.
LEGO® DUPLO®
fun, easy, educational, together or individual play
Teach your child to master the basic skills of building with these simple build models.
LEGO® DUPLO® is for toddlers and infants from 1.5 to 5 years old, the ideal follow-up step is the sets of LEGO® 4+.
LEGO® Juniors sets are available from the age of 4!
With LEGO® DUPLO® My first development toy for children between the ages of 1.5 and 3 teaches toddlers how to take important steps, such as learning colors, shapes and numbers.
There is a suitable My first set for every budget, such as the set of large, brightly colored stones that improve the motor skills and STEM skills or the set of cute figures that are ideal for role play.


My LEGO® DUPLO® City consists of different types of development toys for children between the ages of 2 and 5 with which they can learn in a playful way and can think up role-plays themselves.
Every set, from the Pizzeria to the Family House, helps your toddler improve his or her motor skills, STEM skills and vocabulary.
Combine the sets for more fun and a bigger city!


With the LEGO® DUPLO® Favorite figures children between 2 and 5 years can invent stories, build and play role plays. Every set, from Mickey Mouse to Disney princesses, is a good basis for developing social and STEM skills. And thanks to the different classic and new figures, the sets are fun for the whole family.
LEGO® DUPLO®
not the present, but the past ....
LEGO® DUPLO® was first released in 1969.
Just like with LEGO, the color palette consisted of the colors blue, green, red and yellow.
Today there are dozens of different colors and shapes.
In the earlier sets, the themes mainly consisted of other trains, (pirate) ships, planes, helicopters and castles.
Later themes in which Duplo sets were released include Winnie the Pooh, Bob the Builder, Dora the Explorer and Thomas the steam locomotive.
For the little ones there was DUPLO® with large convex studs under the name DUPLO® Baby (formerly Primo).
Only from 2006 was the DUPLO® Baby category stopped.
LEGO® DUPLO® 
not the past, but the present ...
Today there are dozens of different DUPLO® sets and there is an even more extensive range of colors and shapes.
The number of DUPLO® categories has also increased and there is a greater distinction in the age categories.
An example of this is LEGO® Duplo® My First, specially developed for children from 1.5 years.
Duplo® sets are not only fun to play with, but are also very educational.
In this way children learn to recognize colors, emotions, counting at a young age, and contribute to the development of hand movements and also to the development of language / speech.
Colors:
DUPLO® parts come in a large number of bright colors, so that your child learns to recognize colors at a young age, but it also helps in the development of pronouncing the colors.
Emotions:
Various DUPLO® parts today have a print on which an emotion can be seen.
Some parts have a print on 2 sides,for example with a cheerful face on one side and a sad face on the othere side.
This helps you and encourage your child to recognize emotions at a young age!
Counting / Recognizing Numbers:
There are DUPLO® parts with numbers on them every year.
Such as a number train.
This teaches your child to recognize numbers / numbers, but also helps with the development of pronouncing the numbers.
Hand movements (Fine Motor):
Building and playing with DUPLO® helps your child to develop fine motor skills.
This way, your child learns to grasp things, put them together, move and more ...
Language / Speech:
With DUPLO® you help your child with the development of language / speech.
By recognizing, for example, a color and pronouncing it, your child is stimulated in the development of language / speech.
LEGO® DUPLO®
brings a smile to your child's face!
Read more