The LEGO Group has unveiled the completely new and highly anticipated Disney Collectible Minifigures series 2!
The new series consists of 18 different mini-figures with characters from among others:
Frozen, Hercules, Aladdin, Nightmare Before Christmas.
The Disney Collectible Minifigures series 2 is expected from me in the store & webshop!
Newly expected and revealed  
LEGO® Disney Collectible Minifigures Series 2

It is now a few years ago (3 years) that LEGO released the first Disney Collectible Minifigure series!
In this series the Disney characters came from The Little Mermaid, Alice in Wonderland and Peter Pan, among others.
And now the very latest LEGO® Disney Collectible Minifigures Series 2 is expected from May!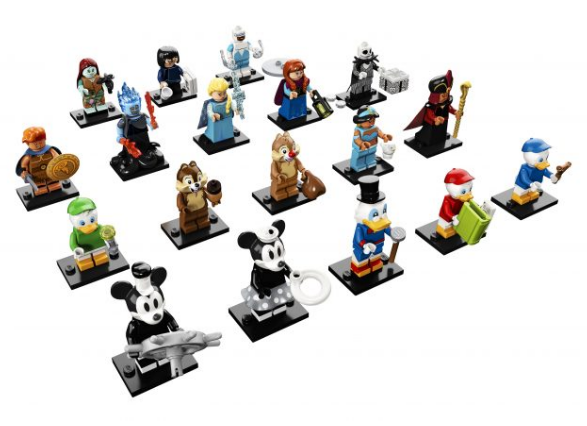 This 2nd series of LEGO® Disney Collectible Minifigures will consist of the following 7 themes:
Frozen
Hercules
Aladdin
The Nightmare Before Christmas
The Incredibles
Ducktales
Classic Disney Chip Munks
Vintage Disney
Each of the 7 themes consists of a number of unique and exclusive collection of mini-figures!
The Disney character that are expected are:
Anna and Elsa from Frozen
Hercules and Hades from Hercules
Princess Jasmine and Jafar from Aladdin
Jack Skellington and Sally from Nightmare Before Christmas
 Frozone and Edna Mode from The Incredibles
Dagobert Duck and his cousins ​​Huey, Dewey and Louie from Ducktales
Chip and Dale from the Chipmunks
Mickey and Minnie Mouse in vintage black and white version from the classic Steamboat Willie!
We at Team CWJoost are already looking forward to it!